Happy Smiles Begin at Windstone Dental in Olive Branch
Windstone Dental in Olive Branch is a friendly and comfortable dentist office that has taken care of the area's patients since 1985. Over that time, we've helped thousands of people enjoy beautiful smiles and optimal oral health. As our patient, here are a few things you'll appreciate about our office: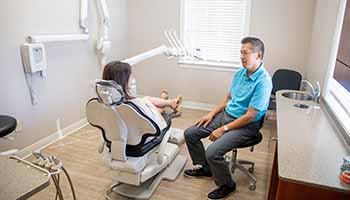 Image Title: GenericContent_Thumb_02
Doctor Stephen Joe Talks about what sets Windstone Dental apart
Read Transcript
Doctor Stephen Joe Talks about what sets Windstone Dental apart
Once again, it's about building relationships with the patients. Several years ago when cell phones came out, I would give patients my cell number. I still do. I want them to be able to have access to me on weekends because if they don't, then they're gonna find somebody else. So, that's my mindset, is that I'm there for them seven days a week.
Our founder, Dr. Stephen Joe, has 38 years of dental experience and serves on multiple advisory boards because of his expertise.
We are relationship focused and strive to understand your needs and wants.
You can relax with either inhaled sedation or oral conscious sedation.
Your whole family is welcome here starting at age 5, and we can schedule multiple family members at the same time.
Our dental team is dedicated to providing the best, most comfortable smile care possible.
Call Windstone Dental today at 662-850-6782 to schedule your next dental visit or checkup. Besides Olive Branch, we also serve nearby communities like Southaven, Walls, Byhalia, Horn Lake, Holly Springs, Cockrum, Memphis, Cordova, Germantown, and Collierville.
Keep Your Smile Healthy With Our Expertise, Personalized Care, & Technology
At Windstone Dental, we firmly believe in building genuine relationships with our patients because that is the best way to truly understand you and your dental needs. The better we're able to serve your smile care needs, the better total body health you'll enjoy. So, if we take a little extra time getting to know you, it's because we want to serve you in the best way possible.
Besides building a relationship with you, we also have invested in leading-edge technology to streamline your diagnosis and treatment. Inside our office, you'll find:
Digital X-ray Equipment – This technology emits up to 90 percent less radiation than standard X-ray equipment.
3-D Panoramic X-ray Equipment – With this equipment, we can get up-close views of your bone structure.
Digital Scanners – A digital scanner quickly takes digital impressions of your teeth and gums so your new restorations can be made to exact specifications.
3-D CT Scanner – This equipment creates detailed, 360-degree images of your soft tissue, blood vessels, and more.
Meet Dr. Stephen Joe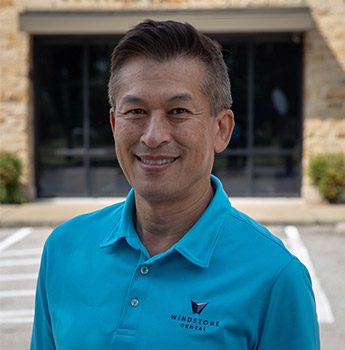 Image Title: Staff_SJoe
Meet Doctor Stephen Joe
Read Transcript
Meet Doctor Stephen Joe
As a 17-year-old, I was a spoiled child. My mom and dad always did everything for me. So, when it was time to go to college and choose a major, I really didn't know what I wanted to do. But I chose engineering. So, I studied engineering for a year and realized that's not where I wanted to go. So, I made a change. I went into accounting. So, after a year of college taking business and accounting courses, I realized again, that's not what I wanted to do. Sometime that summer after my sophomore year, I talked to some friends whose son was a dentist, and it kinda struck me, "Hey, that might be something that I might enjoy doing." So, I pursued pre-dentistry. Tried to catch up some courses...Went to summer school for the first time in my life, and took some biology and some more chemistry. And there I went pre-dentistry. And it turned out to be a blessing. Next year, it'll be 40 years that I've practiced dentistry. So, I've had a blessed career. Really have enjoyed what I've done, and just thankful that I had that opportunity.
Dr. Joe is a member of the American Dental Association, Mississippi Dental Association, American College of Dentists, Tri-Lakes Study Club, and Ole Miss Alumni Association. He is the past president of the Mississippi District 2 Dental Society and past president of the University of Mississippi School of Dentistry Alumni Association. He has served on several committees of the Mississippi Dental Association, including political action, constitution and bylaws, and peer review. Dr. Joe also serves on the Board of Directors for the Southaven Chamber of Commerce, Fellowship of Christian Athletes, Northwest Community College Foundation, BancorpSouth Bank, and Olive Branch YMCA. He volunteers, serving with the Trinity Health Center and Calvary Union Missions.
Dr. Joe has been married to his wife Helen for 39 years. They have three daughters: Kristen, Kalen, and Kamren. They have been blessed with three grandsons: Kyler, Rowan, and Henry. Dr. Joe and Helen are members of Harvest Church in Memphis, TN.
Dr. Joe enjoys following sports, particularly football, basketball, baseball, tennis, and golf. He enjoys playing golf and reading, but his passion is most definitely dentistry.
Meet Dr. Rhett Simmons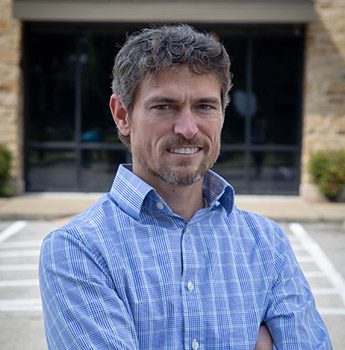 Image Title: Staff_Simmons
Meet Dr Rhett Simmons
Read Transcript
Meet Dr Rhett Simmons
Early in life, I knew I liked to do stuff in medicine, you know, I wanted to be a doctor as a kid. And, you know, I really like helping people, doing things with my hands. So I thought dentistry would be a great field where I could do both, help people out, work with my hands, kinda be my own boss, and just have a career in medicine.
There's two things I really like, one is helping people get out of pain. We see it every day, and it's really rewarding to help them feel better. And, two, helping them smile again. I have so many patients that come in and say, "You know, Doc, I don't wanna smile. You know, I hate taking pictures or being out in public." And it's really rewarding to be able to help them smile again, and just see that when they leave the office.
A Mississippi native, Dr. Rhett Simmons has been a dentist in DeSoto County since 2005. He earned his BS in biology from Mississippi College and his dentistry degree from the University of Mississippi School of Dentistry. Dr. Simmons truly enjoys his profession and works hard to give each of his patients a positive dental experience. He has a special interest in orthodontics and is certified in Invisalign and Six Month Smiles braces. He is a member of the American Dental Association and the Mississippi Dental Association.
Family is important to Dr. Simmons, and he and his wife, Amanda, have four children. In his spare time, he enjoys spending time with his busy family, tackling projects around the house, coaching youth sports, and volunteering at DeSoto Hills Baptist Church. Dr. Simmons is also a sports fan and enjoys a variety of outdoor activities.
Meet Dr. Kamren Joe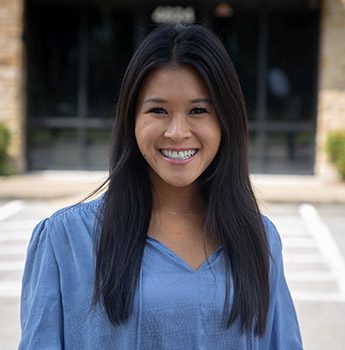 Image Title: Staff_KJoe
Meet Doctor Kamren Joe
Read Transcript
Meet Doctor Kamren Joe
I decided to go into dentistry because that is kind of how I grew up. My dad was a dentist and that's...my diapers were changed in the office. The receptionist, Michelle, babysat me all through. The work hours, whenever I was little, and so I was around it all the time.
And I knew I wanted to do something in the medical field when it was my time to decide to choose a career path. And it was an easy decision for me to choose dentistry. It just focused on one area of the body. I just really enjoy dentistry, and all that it involves, and getting into work alongside your dad is an added bonus.
Dr. Kamren Joe was born in Memphis, TN but grew up right here in Olive Branch, MS. She is a graduate of the University of Mississippi where she received her Bachelor of Science in Exercise Science. Following her years of undergraduate, Dr. Kamren earned her Doctorate of Dental Surgery in May 2020 at the University of Tennessee Health Science Center in Memphis, TN. She is a member of the American Dental Association and the Mississippi Dental Association.
Dr. Kamren considers it a privilege to be able to join such an established practice in Desoto County, and she is excited to finally be able to serve the community alongside her father, Dr. Stephen Joe. Dr. Kamren not only became a dentist because of the passion she saw her father display towards this career field, but she also aspired to a career in which she could get to know her community and serve others at the same time. Dr. Kamren's favorite part about dentistry is interacting with her patients each day. She is passionate about helping others and educating patients concerning their overall oral health. Dr. Kamren hopes to give back to the community which has given so much to her family.
In her spare time, Dr. Kamren loves spending time with her family and friends. She enjoys traveling, relaxing at the beach or pool, reading, and attending Ole Miss sporting events. She met her husband Dr. Thomas Cooner while they were in dental school. They have a golden retriever named Otis whom you may get the privilege of meeting in the office during your next visit!
Let us help you maintain a bright and healthy smile! Call Windstone Dental in Olive Branch today at 662-850-6782.