Straighten Your Crooked Smile With Invisalign in Olive Branch
If misaligned teeth are preventing you from having the straight and beautiful smile you want, the team at Windstone Dental can help. With Invisalign in Olive Branch, we can deliver your new smile more comfortably than using traditional braces. This innovative orthodontic treatment offers you quite a few benefits, including: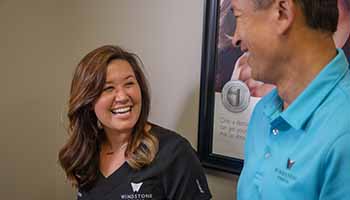 Image Title: GenericContent_Thumb_05 (1)
Doctor Rhett Simmons Talks about Invisalign
Read Transcript
Doctor Rhett Simmons Talks about Invisalign
Invisalign is one of my absolute favorite things to do. It's really rewarding, and fun, to improve people's smiles by just moving their teeth. It's a simple process. It's very comfortable to wear. It's virtually invisible. Patients really like it. But it's a fairly quick way just to get a better smile, a better bite, and just better function.
Increased confidence when mingling and socializing
A younger, more attractive look
More positive first impressions
An advantage in your professional life
Better self-esteem
Don't put off getting your best smile. Call the expert team at Windstone Dental today at 662-850-6782 to schedule your Invisalign consultation. Our office is located at 4824 Goodman Road, not far from Target and Longview Baptist Church.
Unlock a New Look With the Invisalign Method
An improved smile all starts with your initial consultation at Windstone Dental. We'll use our digital scanner to take impressions of your teeth so that your treatment plan will be tailored to you. We'll also take photos of your smile to compare before-and-after pictures. Plus, we will simulate your new smile digitally so you can see what it will look like once your treatment is complete. We don't want there to be any surprises; we want to make sure you're completely satisfied with your orthodontic care.
Here's what you can expect from your Invisalign treatment:
Speed – Your treatment could be completed in as few as 12 months. Some patients take longer and some shorter, but you should have straight teeth in less time than with braces.
Comfort – You'll wear soft plastic teeth aligners that are completely metal-free. You won't have to worry about any sharp, pointy edges irritating your cheeks and gums. The aligners will fit snugly over your teeth, and it should be easy getting used to them.
Discretion – Your aligners will be transparent, so you won't worry about embarrassing metal braces drawing unwanted attention. Other people will barely notice the aligners, if at all.
Flexibility – As long as you wear your aligners for at least 20-22 hours a day, you can remove them anytime you like. Take them out for eating, brushing, or special occasions. Just pop them back in later on.
Your dentist at Windstone Dental will be happy to detail your Invisalign treatment and answer any questions you have about it, including questions about payment. For your convenience, we offer CareCredit financing, which has zero- and low-interest payment options. Your dental insurance may also pay for a part of your Invisalign treatment. We recommend you check with your carrier to see what they will cover.
Are you ready to get started on the smile of your dreams using Olive Branch Invisalign? Call Windstone Dental today at 662-850-6782 to schedule a consultation. You can also request an appointment time online.