Rejuvenate Your Smile With Dental Implants in Olive Branch
Dr. Stephen Joe has 38 years of restorative dental experience, so if you're fed up with missing teeth, you've come to the right place. He and our other dentists, Dr. Rhett Simmons and Dr. Kamren Joe Cooner, will be happy to help you renew your smile. Olive Branch dental implants are an excellent way to replace your missing teeth. With implants, you could soon: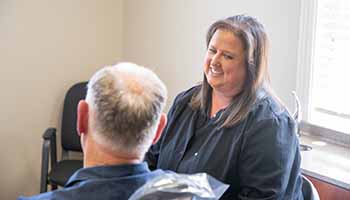 Image Title: GenericContent_Thumb_06
Doctor Stephen Joe Talks about Dental Implants
Read Transcript
Doctor Stephen Joe Talks about Dental Implants
I think dental implants is a great option for missing teeth. First of all, they've a more natural feeling. You can floss easier. You don't have excess material in your mouth. And the patient's more confident. They're more secure than removable implants.
Enjoy feasting on all your favorite foods again
Take pride in showing off a complete smile everywhere you go
Talk more plainly so you avoid embarrassment
Look younger, more attractive, and more vibrant
Improve your oral health and total body health
Make better first impressions on the job
Draw people to you with a natural-looking, beautiful smile
Don't wait another day to get your smile back. Call the pros at Windstone Dental today at 662-850-6782 to schedule a consultation. We're conveniently located on Goodman Road, near its intersection with Pleasant Hill Road.
Enjoy Eating, Smiling, & Talking With Teeth Implants
When you come to Windstone Dental for your dental implant treatment, you'll receive the most efficient, precise, and comfortable care around. We'll use a 3-D CT scanner to plan your treatment and give you options on your care whenever we can.
There are a variety of ways we can use implants to help you get your smile back. Your unique situation will determine how we proceed with your treatment, but some of our dental implant options are:
Single Implant With a Crown – We'll first place an implant in your jaw and, after a healing period, cap it with a crown to replace one missing tooth. This treatment will restore your chewing capacity and fill in your smile beautifully.
Implant-Supported Bridge – Your bridge will anchor to at least two dental implants, with replacement teeth in the middle. If you have several missing teeth in a row, this restoration may be right for you.
Implant-Retained Dentures – We'll anchor your dentures using a snap-and-ball system that will keep your teeth in place while you're talking, eating, and laughing. You won't need any denture adhesive to stabilize them.
Implant-Supported Dentures – You'll love our most comfortable type of dentures. These teeth anchor to a sturdy metal bar that is attached to your implants, transferring the force of biting and chewing to your jawbone.
Same-Day Smile – Find out if you're a good candidate to get your implants and new teeth all in the same day. Never be without your teeth again.
Full-Mouth Reconstruction – Your dentist will design a treatment plan to restore all your teeth using implants. You'll have a complete smile and full set of functional teeth again.
Mini Dental Implants – If your jawbone is weak, we may recommend mini implants. They require less healthy bone material and reduce healing time.
Your new smile is waiting for you at Windstone Dental. Call us today at 662-850-6782 to find out more about dental implants in Olive Branch. You can also request an appointment time online.