Your Olive Branch Restorative Dentist Will Strengthen Your Smile
No matter what condition your smile is in, your Olive Branch restorative dentist at Windstone Dental can repair your smile. There's no problem too small or too large for us to handle. So, if you're tired of the hassles of failing and missing teeth, it's time you did something about it. Using restorative dentistry, the team at Windstone Dental can help you: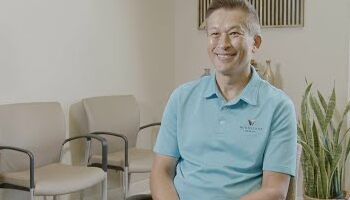 Image Title: youtube thumbnail - jba8Stm7T70
Doctor Stephen Joe Talks about Dental Anxiety
Read Transcript
Doctor Stephen Joe Talks about Dental Anxiety
Well, I think it's important to treat entire families. So, we really want to be able to serve, you know, small kids, older adults, any kind of need, whether it be primary teeth, adult teeth, pain, missing teeth, just all aspects of dentistry. We really wanna focus on the entire family. So, you know, if you wanna bring any of your family in, we'd be glad to see 'em and help out any way we can.
Eat comfortably and enjoy dining out again
Smile with confidence when meeting new people
Aid your digestive process through more complete chewing
Improve your oral health and overall health
Boost your self-esteem
Look younger, more attractive, and more robust
Make better first impressions
Call us today at 662-850-6782 to get started on repairing your smile.
Rebuild Your Smile With Help From Our Expert Team
At Windstone Dental, your restorative dentistry team will get to know you and your smile before any work is done. We'll work hard to understand your needs so we can meet and exceed your expectations for your smile.
In addition to building an authentic relationship with you, we'll use leading-edge dental equipment to help us repair your smile. Our office features digital X-rays, panoramic X-rays, a 3-D CT scanner, and a digital scanner. This isn't just fancy equipment; this technology allows us to make your treatment as precise and comfortable as possible. Plus, dental sedation is available to help you relax if you're nervous.
As our patient, you'll have access to a variety of restorative dentistry services, including:
Tooth Fillings – Most of our fillings are made with a composite resin material that blends in naturally with the rest of your teeth. We do offer traditional metal fillings if they are wanted or needed.
Dental Crowns – We usually have our crowns made from zirconia, a beautiful and long-lasting material. Your new crown will strengthen a damaged tooth or, along with a dental implant, replace a missing tooth.
Dental Bridges – Bridges are a good way to replace missing teeth if implants are not possible. The bridge is built from crowns that anchor to surrounding teeth, with one or more artificial teeth in the middle.
Dental Implants – These prosthetic teeth roots serve as a base for several types of replacement teeth. You can get back your smile and your bite while preserving your jawbone.
Dentures – We offer several types of dentures to choose from, depending on your needs: full and partial conventional dentures or implant-secured dentures.
Inlays and Onlays – Sometimes referred to as "partial crowns," these restorations mend damage when a regular tooth filling won't work but an entire crown isn't needed.
Root Canal Treatment – Your dentist will clean out the infected inner portion of your diseased tooth to eliminate your pain and save your tooth.
When your smile needs repair, contact an expert restorative dentist in Olive Branch. Call Windstone Dental today at 662-850-6782 to schedule an appointment. You can also request an appointment time online.